Since we live in a digital age, everything is becoming paperless. You can find any document or resource you need on the internet and view them in your Kindle, laptop, phone, or tablet, instead of printing out a copy.
However, sometimes you need a printer for your child's assignments or your office projects.
You might think that if you buy an inkjet printer, the ink will dry up when not used frequently. While it is true, it also means you will have to spend on ink every time you use the printer.
Now, the question is- should you really be spending like that?
No, you don't have to! We are here to help you out in choosing the best printer for infrequent use. Our list comprises some of the top models that are guaranteed to get the job done regardless of the time frame.
Editors' Picks for Top Printer for Infrequent Use 2022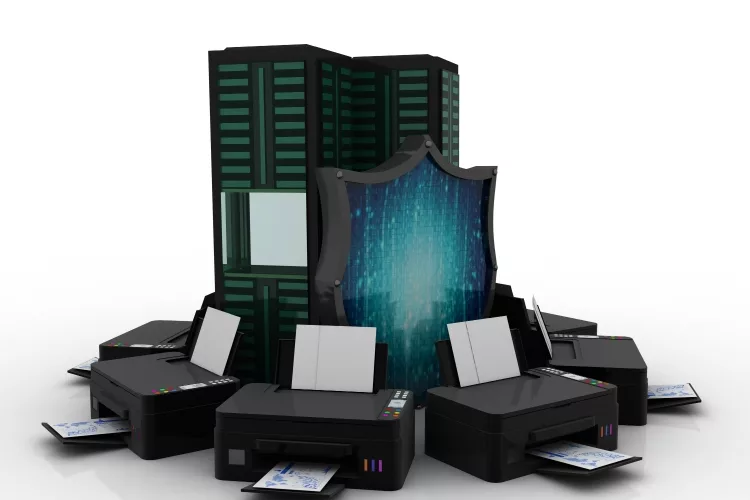 List Of Top Printer For Infrequent Use
Comparison Chart For Top 10 Printers For Infrequent Use
| NAME | SPEED | MAX RESOLUTION (DPI) | PAPER CAPACITY (SHEETS) | PRICE |
| --- | --- | --- | --- | --- |
| Canon PIXMA TR4520 | Black: 8.8 ipmColor: 4.4 ipm | 4800 x 1200 | Front Paper Cassette: 100 | |
| HP DeskJet 2622 | Black: 7.5 ppmColor: 5.5 ppm | 4800 x 1200 | Input: 60Output: 25 | |
| Canon Pixma iX6820 | Black: 14.5 ipmColor: 10.4 ipm | 9600 x 2400 | Input: 150 | |
| HP OfficeJet 3830 | Black: 8.5 ipmColor: 6 ipm | 4800 x 1200 | Input: 60Output: 25 | |
| Canon Pixma MG3620 | Black: 9.9 ipmColor: 5.7 ipm | 4800 x 1200 | Output: 100 | |
| Brother HL-L2300D | Black: 27 ppm | 2400 x 600 | Input: 250Output: 100 | |
| Canon PIXMA TS6220 | Black: 15 ipmColor: 10 ipm | 4800 x 1200 | Input Tray 1: 100Input Tray 2: 100 | |
| Canon TS5120 | Black: 13 ipmColor: 6.8 ipm | 4800 x 1200 | Rear Paper Tray: 100Front Paper Cassette: 100 | |
| Epson EcoTank ET-2720 | Black: 10.5 ppmColor: 5 ppm | 5760 x 1440 | Input: 100 | |
| HP ENVY Photo 7855 | Black: 15 ppmColor: 10 ppm | 4800 x 1200 | Main Tray: 125Output Tray: 25 | |
Best Printers For Infrequent Use Reviews
1. Canon PIXMA TR4520- Best All-In-One Printer For Infrequent Use
Other than just a printer, you might require a scanner, copier, or a fax machine for your home office.
But instead of purchasing the latter three separately, you can let Canon Pixma TR4520 handle all the tasks! Since this is an all-in-one inkjet printer, it comes with a built-in ADF (automatic document feeder) for scanning, copying, and faxing to save the hassle of going through multiple pieces of equipment.
The built-in scanner is very simple to use than a scanner itself. All you need to do is feed the paper to the top tray and press the "scan" button. The printer will use the scan feature to scan the document and then send the image directly to your phone.
Other than that, if you need to make a copy of a document, you can do that too by loading the paper you want to be copied and then pressing the "copy" button.
Often, your client will want you to send a hard copy of an important document. In such cases, the fax feature will be of great help.
The printer itself allows you to print high-quality text and images wirelessly using your smartphone, laptop, or tablet. Plus, you can do double-sided printing when you need to work on a single page.
One exciting feature you will get from this printer is that it connects to Alexa! So, when your hands are full, you can simply tell Alexa to print anything you want.
Highlighted Features
Comes with a built-in ADF for scanning, copying, and faxing
Features auto-duplex printing
Integrates with Alexa
Can be used to print from smartphones, laptops, and tablets
Works with AirPrint and Canon Print App
2. HP DeskJet 2622- Best Home Printer For Infrequent Use
HP DeskJet 2622 is another great printer you can use if you want it to be multifunctional.
Along with the printing option, it comes with scanning and copying features to save you from the hassle. With the help of HP Smart App, you can have the convenience of printing, scanning, or copying from any device, including smartphone and tablet.
When it comes to printing, the printer supports various paper sizes that you can use according to requirements. This printer works with A4, B5, A6, and DL paper sizes. Since this is an HP printer, if you use Original HP 65 ink cartridges, there's no doubt you will obtain great results in every print.
Other than that, if you want to integrate this printer with Alexa, you can do that too! You will benefit from getting your prints done while you are busy working on other tasks.
If you are thinking about where to keep your printer since you will be using it infrequently, you don't need to worry! This guy is light and compact enough to fit into the side of your desk. Plus, the output tray is foldable, so you can save space by closing the tray after you are done printing.
When you have this printer, you don't have to worry about ordering ink because your printer will do it for you. By signing up for HP Instant Ink delivery service, you will get Original HP ink for a low monthly price before you run out.
Highlighted Features
Can be used for printing, scanning, and copying
Can be used to print on A4, B5, A6, and DL papers
Works with Alexa
Supports wireless printing with HP Smart App and AirPrint
Comes with a folding output tray
3. Canon Pixma IX6820- Best Photo Printer For Infrequent Use
If your work requires printing high-quality images, you can use this amazing Canon Pixma iX6820 printer.
Using fine print head technology, it delivers a maximum resolution of 9600 x 2400 dpi, which is suitable for displaying presentation charts or documents. The
colored inks produce photo prints of vivid colors, while the black inks bring out crisp prints of small letters and sharp lines.
An advantage of using this printer is that it features five individual tank system, so when you are running out of a color, you can only purchase that particular color and replace it.
Other than that, if you use Canon's photo papers with this printer, your prints will last over 200 years in the photo album, 40 years on display behind glass, and ten years on display without glass.
This printer comes with not only exceptional printing quality, but also some useful features. The Auto Power On automatically powers up the printer when you send a print job. Plus, the Quiet Mode lets you print documents without disturbing the people around you.
Like most printers, this one supports wireless connectivity for easy printing. You can use AirPrint, Google Cloud Print, and Pixma Printing Solutions app to print documents from any device.

Highlighted Features
It has a maximum resolution of 9600 x 2400 dpi
Features five individual tank system
Supports wireless printing with PPS, AirPrint, and Google Cloud Print
Can be used for borderless printing
Features Auto Power On and Quiet Mode
4. HP OfficeJet 3830- Best Printer For Occasional Home Use
Another great printer from HP, the OfficeJet 3830 is the ideal printer for your home.
This all-in-one printer lets you print, scan, copy, and fax documents in one place to eliminate the hassle. By interacting with the intuitive 2.2-inch black and white touchscreen, you can select the action you want your printer to perform.
Unlike most printers, this one allows you to scan documents in two ways- with the scanner bed and ADF. When you are done scanning, the printer will send you the scanned images to your phone using HP Smart App or to your laptop using HP Easy Scan program.
Apart from scanning, you can also use the scanner bed and ADF for copying and faxing documents.
When it comes to printing documents, the printer delivers clear and sharp texts. For color prints, you will see that the images are crisp with well-reproduced colors. With this printer, you can print not only on A4 but also on glossy photo paper, card stock, envelope, high-resolution paper, and label.
Apart from its versatility, you will find other useful features that will make your life easier. You can control this printer with your voice if you have Alexa integrated into the printer. Additionally, if you want to print without waking anyone around you, you can enable Quiet Mode.
Highlighted Features
Can be used to print on a wide range of paper types
Features 2.2-inch mono touchscreen
It has print, scan, copy, and scan functions
Works with Alexa
Features Quiet Mode
5. Canon Pixma MG3620- Best Budget Occasional Printer
If you prefer purchasing an all-in-one printer but don't mind the absence of a fax option, then this is for you.
Canon Pixma MG3620 allows you to not only print documents but also scan and copy them. With this versatile printer, you can perform such tasks from anywhere in the house.
This printer can print high-quality images and sharp texts suitable for your child's assignments or office projects. Besides, the auto-duplexing feature allows you to print on both sides so that you can reduce paper costs up to 50 percent.
Like most printers these days, this guy supports wireless printing for your convenience. You can use AirPrint, Google Cloud Print, Mopria, Canon Print, and NFC to print important documents from any device.
One thing worth noting is that you will get optimum results when you use genuine Canon inks instead of the ones sold by third-party manufacturers. Genuine Canon inks are guaranteed to deliver you crisp and smudge-resistant prints that you can easily share with anyone.
Besides, if you properly install your printer with those genuine colors, you will be able to get access to a premium service that allows you to download exciting paper craft materials for printing.
Highlighted Features
It has print, scan, and copy functions
Features auto-duplex printing
Supports wireless printing options
It has a resolution of 4800 x 1200 dpi
Can be used to print from smartphones, laptops, and tablets
Printer For Infrequent Use Buying Guide
Types Of Printer
Inkjet printers are commonly used because they are cheaper and can produce high-quality images for small documents. Since these printers rely on ink, you need to use it to print frequently; otherwise, the ink will dry up.
On the other hand, laser printers are expensive, and while they can produce high-quality text and graphics, you can expect photographs of moderate quality. Unlike inkjet printers, they use toner cartridges, which last longer than ink.
Color
When choosing the best printer for occasional use, you need to know whether you will need a color printer or a monochrome printer.
If your home office tasks or child's assignments require colorful graphics and images, then you can go for a color printer. For only text documents, a monochrome printer is the ideal choice. It all depends on the purpose for which you are buying the printer.
While color printers can give you vibrant colored images, they have a higher running cost compared to their monochrome counterparts.
Paper Handling
Your printer should be able to print on a variety of paper types and sizes in order to get high-quality prints.
You'll find some printers designed to print only on photo papers, while others are suited for cards. A printer that can do all will eliminate such limitations.
Apart from that, you need to consider the paper's size you will be using when you purchase your printer. Most printers usually support A4 documents, but if you need to print on a larger one, then you will need to invest in a larger printer.
Despite occasional usage, you might be required to print a large volume of documents. In that case, you need to ensure your printer has a large paper capacity because it will save time.
Duplexing
This is another factor you will want to consider if you are conscious about the environment.
Duplexing is defined as double-sided printing or scanning. A printer having the duplexing feature allows you to save paper by printing on both sides without manually flipping the page over.
Speed
When buying a printer, you will encounter the acronym "PPM," which means "pages per minute." It basically refers to how many pages your printer can print in a minute. The higher the ppm, the faster it can print. Apart from that, some printers use "IPM" or "images per minute" to count as speed.
Regardless of how often you will use your printer, you would want it to perform faster, so you need to look for a model that can print both large and small volumes of paper more quickly.
Resolution
Apart from PPM or IPM, you will also notice "DPI" or "dots per inch." It refers to how many dots of ink the printer can apply to each square inch of paper. The higher the DPI value, the better will be the resolution of the printouts.
Connectivity
Nowadays, you will find that most printers can be connected wirelessly through WiFi and cloud printing connectivity.
While these are standard features, you will also find printers supporting Ethernet, USB, NFC, SD cards, and Bluetooth.
Final Words
It is important you select a printer that will cater to your requirements. Since, you won't be buying another one after a few months' or a year's usage, you need to choose wisely regardless of the cost.
That being said, it takes a lot of time to research and then finally decide on a printer. So, in order to save time, we have done the research for you and compiled a list of the best printers for infrequent use.
We hope you have found your desired printer and excited to use it without worrying about the ink drying up.
Buy on Walmart
Epson EcoTank ET-2720 Wireless Color All-in-One Supertank Printer with Scanner and Copier - Walmart Link
Canon Wireless Pixma TR4520 Inkjet All-in-one Printer with Scanner, Copier, Mobile - Walmart Link
HP OfficeJet 3830 All-in-One Wireless Printer, HP Instant Ink, Works with Alexa (K7V40A) - Walmart Link
Brother Compact Monochrome Laser Printer, HL-L2350DW, Wireless Printing, Duplex Two-Sided - Walmart Link
Canon 2986C002 PIXMA TS6220 Wireless All In One Photo Printer with Copier, Scanner and - Walmart Link
HP OfficeJet Pro 8025 All-in-One Wireless Printer with Smart Tasks for Home Office - Walmart Link
Color imageCLASS MF743Cdw - All-in-One, Wireless, Mobile-Ready, Duplex Laser Printer with - Walmart Link
1. Canon PIXMA TR4520 - Walmart Link
2. HP DeskJet 2622 - Walmart Link
3. Canon Pixma iX6820 - Walmart Link
4. HP OfficeJet 3830 - Walmart Link
7. Canon PIXMA TS6220 - Walmart Link
9. Epson EcoTank ET-2720 - Walmart Link
10. HP ENVY Photo 7855 - Walmart Link
Buy on eBay
Epson EcoTank ET-2720 Wireless Color All-in-One Supertank Printer with Scanner and Copier - eBay Link
Canon Wireless Pixma TR4520 Inkjet All-in-one Printer with Scanner, Copier, Mobile - eBay Link
HP OfficeJet 3830 All-in-One Wireless Printer, HP Instant Ink, Works with Alexa (K7V40A) - eBay Link
Brother Compact Monochrome Laser Printer, HL-L2350DW, Wireless Printing, Duplex Two-Sided - eBay Link
Canon 2986C002 PIXMA TS6220 Wireless All In One Photo Printer with Copier, Scanner and - eBay Link
HP OfficeJet Pro 8025 All-in-One Wireless Printer with Smart Tasks for Home Office - eBay Link
Color imageCLASS MF743Cdw - All-in-One, Wireless, Mobile-Ready, Duplex Laser Printer with - eBay Link
1. Canon PIXMA TR4520 - eBay Link
2. HP DeskJet 2622 - eBay Link
3. Canon Pixma iX6820 - eBay Link
4. HP OfficeJet 3830 - eBay Link
7. Canon PIXMA TS6220 - eBay Link
9. Epson EcoTank ET-2720 - eBay Link
10. HP ENVY Photo 7855 - eBay Link