What comes to your mind when you think of the best small printer?
A printer that you can slip into your pocket and tag along to parties, festivals, sports activities, or any other outdoor gathering?
Of course, devices in this category are arguably the most portable and help when you need to print out personal snapshots. They come in handy when you need to share and relive happy moments with family and friends.
But the term is pretty broad. Thus, compact desktop printers also fall into this category. They are ideal for home offices or small businesses.
Interestingly, these models will conveniently fit on to your desktop without you realizing that they are there. They are perfectly compact and don't take up a lot of space.
However, not all small printers are the same. They come in a variety of sizes and characteristics.
In this article, we provide a detailed guide on finding a small printer that is up to the task.
Editors' Picks: Top Small Printer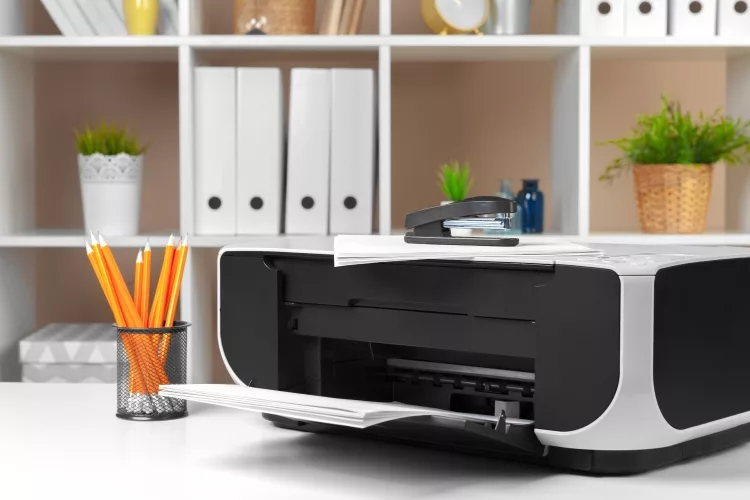 List Of Top Small Printer
1. Polaroid Mint Pocket Printer
6. Victure Portable Photo Printer
8. Brother Compact Monochrome HLL2390DW
Comparison Table For Top 10 Small Printers
Image
Product Name
Print Size
Print Resolution
Functions
Check Price
Polaroid Mint Pocket Printer
2 x 3-inch photos.
300 dpi
Print
Check
HP OfficeJet Pro 8025
8.5 x 14 inches.
2400 x 600 dpi
Print, copy, fax, scan
Check
Brother Compact HL-L2350DW
8.5 x 11 inches.
4800 x 1200 dpi
Print
Check
HP OfficeJet Pro 9015
8.5 x 14 inches.
4800 x 1200 dpi
Print, Scan, Copy
Check
Canon PIXMA TS6320
8.5 x 14 inches.
4800 x 1200 dpi
Print, Scan, Copy
Check
Victure Portable Photo Printer
4 x 6-inch photos.
300 dpi
Print
Check
HP ENVY 5055
8.5 x 14 inches.
4800 x 1200 dpi
Print, Scan, Copy
Check
Brother Compact Monochrome HLL2390DW
8.5 x 14 inches.
4800 x 1200 dpi
Print, Scan, Copy
Check
Epson EcoTank ET-2720
8.5 x 14 inches.
4800 x 1200 dpi
Print, Scan, Copy
Check
HP LaserJet Pro M15w
8.5 x 14 inches.
4800 x 1200 dpi
Print, Scan, Copy
Check
Best Small Printers Reviews
1. Polaroid Mint Pocket Printer - Best Small Printer For Home Use
Let's break this down. But firstly, a printing machine that can easily fit into your pocket is a luxury to have. Mainly if you are the type that likes parties and other social outdoor activities.
The Polaroid Mint Pocket Printer is one such printing tool. A printing toolthat you will easily mistake for a smartphone due to their relatively similar sizes. The device takes the spot of the most compact machine in this article.
Well, such portability only becomes useful if it is coupled with convenient connectivity options. The device won't fail you on that count either, thanks to the inbuilt Bluetooth connectivity option incorporated into the system.
The option gives you a chance to easily connect your printer with iOS or Android mobile devices without messy and confusing cords and cables. Besides, the process is pretty fast.
But what does the Polaroid Mint Pocket Printer do? Interestingly, this is a tool for anyone who takes immense treasure in 2 x 3-inch peel back snapshots. The device produces such photos with unbeatable ease. And you don't need to worry about quality.
Finally, ink-less printing is desirable to all and sundry. The device enables that. So, you won't need expensive toners and cartridges; neither will you have to deal with a mess of ink leakages or smudges. And, don't you think that this feature leads to less waste and, in turn, a cleaner and healthier environment?

Highlighted Features
The Bluetooth connectivity enables fast and reliable connection.
It works with both Android and iOS devices.
Inkless printing technology is clean and environmentally-friendly.
The included software features professional editing options.
An included rechargeable battery enhances more portability and convenience.
2. HP OfficeJet Pro 8025 All-In-One Wireless Printer - Best Small HP Printer
HP is a famous name with an exciting range of printing devices. The company has a reputation that runs down to several decades. They deliver every time that they make a promise. So, you have no substantial reason to doubt the relatively compact HP OfficeJet Pro 8025 All-in-One Wireless Printer.
The device is entirely small and makes a good machine for small offices. At a paltry 18.11 by 13.43 by 9.21 inches, this machine won't take too much of your desk space. Besides, the low footprint also makes it an incredible tool for desktops.
You see, it is essential to consider a versatile device when shopping for a compact printing tool for a small office unless you have plans to purchase a scanner, copier, or fax machine.
The HP OfficeJet Pro 8025 is such a device for nearly all office functions. Undoubtedly, the device delivers high-quality photo and document printing. However, the highlight of this machine lies in its ability to scan, fax, and copy.
At 20 pages per minute, the HP printer is one of the fastest in its class. More productivity comes from the fact that the device features a 35- sheet reliable automatic document feeder and time-saving auto-duplexing.
Together with the sizeable 225-sheet input tray capacity, this is more than what a small office needs from a compact printing machine.

Highlighted Features
You can opt for wired or wireless connection options.
It is a versatile machine with more than printing functions.
It features a range of inbuilt security features.
A 20-ppm speed makes it one of the fastest compact printers.
It is pretty easy to use.
3. Brother Compact HL-L2350DW Monochrome Laser Printer - Best Small Footprint Printer
Often, we hear about laser and think that laser technology machines are bulky office tools that require at least two pairs of hands to move. That's a misconception. While most of them are pretty bulky, a few models are considerably very compact and easy to handle by one person.
A perfect example is the Brother Compact HL-L2350DW Monochrome Laser Printer. It is unbelievable that the device is a productive laser printer at just 14.2 by 14 by 7.2 inches. Isn't this a device you can quickly move around your office?
Well, this printing tool is a monochrome printer, just like it is in the name. That means that you can only use the machine to produce black and white printouts. No color.
Two advantages come with monochrome printing. Firstly, it is cost-effective as you don't need to invest in expensive color inks.
Monochrome printing is also pretty fast and great for productive enterprises. The HL-L2350DW lives up to that, thanks to the incredible speeds of up to 32 pages per minute. It also features a large 250-sheet input tray capacity.

Highlighted Features
It features reliable wired and wireless connections.
A 32 ppm print speed is incredibly productive.
The manual feed rear tray enables the printing of a variety of media.
It allows for automatic duplexing.
The 2-line touchscreen enables easy control and navigation.
4. HP OfficeJet Pro 9015 All-In-One Wireless Printer - Best Small Desktop Printer
The HP OfficeJet Pro 9015 All-in-One Wireless Printer is one of the most popular devicesin the printing industry. Interestingly, it is a darling to most office, business, and home users due to its versatility, efficiency, and productivity despite the relatively compact size.
The device can scan, copy, and print. This implies that you can perform nearly every office task using a single device. Thus, you don't need to invest in multiple devices.
The device is one of the most productive in its category, thanks to the exciting combination of remarkable print speeds, auto-duplexing, and up to 35-sheet automatic document feeder.
The device will conveniently produce plain paper prints at an impressive 22 pages per minute. Such productivity is a functional requirement for home offices as well as small and medium volume businesses.
The HP OfficeJet Pro 9015 also comes with unbeatable levels of efficiency. The Smart Tasks feature helps to eliminate repetitive steps and enables easy synchronization to QuickBooks and Google Drive, among others.
Finally, the HP Smart App allows you to conveniently monitor ink levels so that your cartridges won't dry up and leave you with a workload to handle.

Highlighted Features
The device features a self-healing Wi-Fi for a reliable connection.
It features a range of inbuilt security essentials to help abort threats.
It helps to organize documents faster.
A 35-sheet auto document feeder enhances productivity.
It guarantees impressive speeds of up to 22 ppm.
5. Canon PIXMA TS6320 Wireless All-In-One Photo Printer - Best Compact Printer For Home
Who wants to purchase a printing machine that they cannot use? A small printer for home use should be not only productive and versatile but also easy to use. The Canon PIXMA TS6320 Wireless All-In-One Photo Printer is no exception.
It features a small but intuitive OLED display for easy control and navigation. So, you can easily monitor most commands from the display. The device also comes with a LED bar to provide essential information on printer status.
Like you'd expect from a home office printer, this device prints on both color and black and white modes. The future is aided by the 5-individual ink system that the manufacturer incorporates. Even more, this feature allows you to replace only the cartridges that run out.
The Canon PIXMA TS6320 Wireless All-In-One Photo Printer is pretty versatile and will conveniently handle a variety of paper types and media sizes.
Interestingly, the connectivity options that the device allows are pretty versatile and convenient. You can print from anywhere around your home or office, thanks to the stable Bluetooth and Wi-Fi options.

Highlighted Features
The LED bar provides essential printer information.
It is incredibly user-friendly.
It is ideal for small businesses and home offices.
It prints on both color and monochrome.
Buyer's Guide For Small Printers
Size
Well, you are here to find a compact printer. But how small is your ideal compact printer?
Like you will find out, small printers don't come in similar dimensional formats. They are a variety, each featuring a unique footprint.
Notably, the most compact options are pocket-friendly models that come in the sizes of an ordinary smartphone. Some of these models are even smaller than your smartphone.
Typically, the primary purpose of these models is to produce snapshots. The small footprint makes them the most portable options.
But anyone looking for a more versatile printer for small business or home business will probably need to consider something slightly more prominent and a bit more versatile. Desktop options are a perfect bet for such needs.
Functions
You want a small printer, granted!
But what do you want to achieve with the printing device that you intend to buy? Well, such a question dictates that you look into the functional elements of the ideal printing tool.
If you want to print panoramas, then a portable model is perfectly fine. You can slip it in your briefcase, travel bag, backpack, or pocket to distant destinations. The same could apply to photo booth printing devices.
However, if you are looking for a small printer for a small business or home office, then you'll need to look further.
Think about a more versatile option that can scan, copy, or fax, besides printing. Again, consider models that can handle various types of papers. These are often compact desktop printing tools.
Print Resolution
People buy small printers for portability or convenience. However, it is essential to note that small doesn't translate to mediocre. That's why quality becomes the next significant feature to consider when shopping for the best small printer.
As with any other printer models, print resolution, measured in dots per inch, determines the quality that a printer will produce.
And, the higher the dpi, the more vivid the printouts. The trick lies in selecting a device with a print quality that is as high as possible.
However, it is also essential to look into the type of printing technology of the printer alongside the print resolution.
Dye-sublimation printers will produce impeccable print quality at just 300 dpi. On the other hand, laser and inject options require very high print resolution measurements to give equally remarkable results.
Paper Handling
You certainly have a list of needs that you want to handle with the device that you are planning to buy. And, all printing needs come with media size requirements.
What are the favorite media size that you hope to work with?
A compact photo printer will possibly handle a range of picture sizes from as small as 2 x 2 inches, 2 x 3 inches, and many other panorama variations through to 6 x 8-inch images. Of course, this will vary from printer to printer.
But if you are looking for a printing device for a home office, then you'll probably consider options that can handle legal and letter size media.
Interestingly, there are models of small printers that are pretty versatile when it comes to paper handling capability. Wide-format compact printers will surprise you with detailed 13 x 19-inch printouts.
Final Words
Small printers are indispensable tools for home offices and small businesses. More compact options make up perfect personal printing tools that you can tag along to all destinations.
However, finding the right model is a daunting task, but entirely possible, thanks to the wide variety that you will find in the market.
The best smallest printer models should feature incredible connectivity options, cost-effectiveness, and unbeatable reliability. You will find fantastic options here.
Buy on Walmart
Canon Pixma TR150 Wireless Mobile Printer With Airprint And Cloud Compatible, Black - Walmart Link
Imprimante HP Tango X - Walmart Link
HP ENVY 6055e All-in-One Wireless Color Printer, with bonus 6 months free Instant Ink - Walmart Link
Canon SELPHY CP1300 Wireless Compact Photo Printer - Walmart Link
Canon SELPHY CP1300 Compact Photo Printer (Black) with WiFi and Accessory Bundle w/Canon - Walmart Link
Zink Polaroid ZIP Wireless Mobile Photo Mini Printer (White) Compatible w/ iOS & Android, - Walmart Link
Zink Polaroid ZIP Wireless Mobile Photo Mini Printer (Black) Compatible w/ iOS & Android, - Walmart Link
1. Polaroid Mint Pocket Printer - Walmart Link
2. HP OfficeJet Pro 8025 - Walmart Link
3. Brother Compact HL-L2350DW - Walmart Link
4. HP OfficeJet Pro 9015 - Walmart Link
5. Canon PIXMA TS6320 - Walmart Link
6. Victure Portable Photo Printer - Walmart Link
7. HP ENVY 5055 - Walmart Link
8. Brother Compact Monochrome HLL2390DW - Walmart Link
9. Epson EcoTank ET-2720 - Walmart Link
10. HP LaserJet Pro M15w - Walmart Link
Buy on eBay
Canon Pixma TR150 Wireless Mobile Printer With Airprint And Cloud Compatible, Black - eBay Link
Imprimante HP Tango X - eBay Link
HP ENVY 6055e All-in-One Wireless Color Printer, with bonus 6 months free Instant Ink - eBay Link
Canon SELPHY CP1300 Wireless Compact Photo Printer - eBay Link
Canon SELPHY CP1300 Compact Photo Printer (Black) with WiFi and Accessory Bundle w/Canon - eBay Link
Zink Polaroid ZIP Wireless Mobile Photo Mini Printer (White) Compatible w/ iOS & Android, - eBay Link
Zink Polaroid ZIP Wireless Mobile Photo Mini Printer (Black) Compatible w/ iOS & Android, - eBay Link
1. Polaroid Mint Pocket Printer - eBay Link
2. HP OfficeJet Pro 8025 - eBay Link
3. Brother Compact HL-L2350DW - eBay Link
4. HP OfficeJet Pro 9015 - eBay Link
5. Canon PIXMA TS6320 - eBay Link
6. Victure Portable Photo Printer - eBay Link
7. HP ENVY 5055 - eBay Link
8. Brother Compact Monochrome HLL2390DW - eBay Link
9. Epson EcoTank ET-2720 - eBay Link
10. HP LaserJet Pro M15w - eBay Link