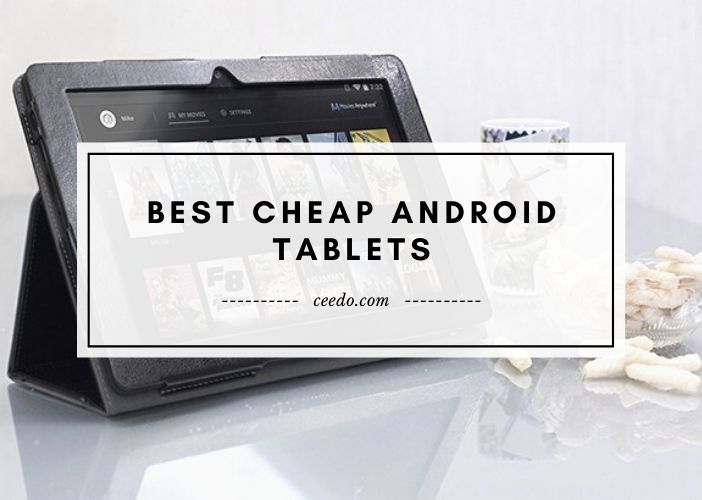 There is no doubt that most of us have a certain level of weakness towards android devices. They are not only incredibly effortless to use, but they also provide us access to the most amazing free apps to make our lives so much easier!
It's not always possible to carry around your laptop, neither do smartphones possess sufficient features and comfort for all your tasks. Thus you may require a tablet by now, and you have probably made up your mind to remain loyal to your favorite OS. But the only problem is that you're within a tight budget.
Thankfully, cheap doesn't always mean not up to par. There is an unlimited range of affordable models in today's market with advanced specs to make your jaws drop. The options to choose from are limitless which may be overwhelming to choose from.
So for those of you on the search for the best cheap android tablets to choose from, this article has been designed just for you!
Comparison Chart For Top 10 Cheap Android Tablets
Best Cheap Android Tablets Reviews
1.Samsung Galaxy Tab A SM-T290NZKAXAR | Best Inexpensive Android Tablets
This compact device comes with a display of 10 inches and a 1280 x 800P resolution to ensure amazing quality visuals. With its sleek design of minimal bezels, you will be able to view your favorite content in more room and comfort. Weighing less than a pound, it is incredibly light and comfortably portable.
The device also consists of dual speakers to provide you with a sensational and immersive audio experience. Powered by Qualcomm Quad 2.0 GHz processor, this device possesses an incredible battery life of up to 13 hours. Thus, whether it's for binging on your favorite shows or work on the move, it will back you up day long.
This affordable model possesses an Android 9.0 Pie OS and is Energy STAR certified to save energy as well. It also possesses a 2MP front and 8MP rear camera to take care of all your photography and video requirements. It comes with USB, Bluetooth, and even Wi-Fi Direct connectivity-whichever you may prefer.
The device is equipped with a sufficient 2GB RAM for smooth operation and multitasking. It has a built-in 32GB storage space but fear not as you can expand it up to a massive 512GB via an additional separate card.
Highlighted Features
Incredible battery life of up to 13 hours
Energy STAR certified; guaranteed to save energy
Minimum bezels for maximum viewing room
Incredibly light and portable
2.Dragon Touch K10 Tablet (Silver) | Best Affordable Android Tablet
Powered by 1.3 GHz MTK 64-bit Quad-Core processor, the K10 comes with a large display of 10.1 inches of 1280 x 800P resolution. It possesses an Android 8.1 Oreo OS and a 178⁰ viewing angle for enjoying bright and crisp visuals almost at any position.
The device comes with an amazing battery life of up to 6 hours to easily enable you to blaze through your tasks the whole day without dying down. Along with the usual USB port, it also includes an HDMI interface which will let you connect to the TV. It even comes with an FM Radio for those who love radio shows.
The device offers Dual-band Wi-Fi to ensure an uninterrupted and reliable network. It is also conveniently portable with its sleek, metal body and a weight of only 2.05 pounds. This model is GMS certified by Google too which will enable you to install apps from the Google Play Store.
You will be able to enjoy a super-smooth gaming or multitasking experience thanks to its powerful processor and a RAM of 2GB. Even though it comes with an internal storage space of 16GB, you can expand it up to an amazing 128GB via a separate SD card. Thus it will be able to safely store all your files without lagging.
Highlighted Features
178⁰ viewing angle for perfect angled viewing as well
Includes an HDMI interface which can connect to the TV
Dual-band Wi-Fi to ensure an uninterrupted and reliable connectivity
GMS certified by Google to enable app installations from Google Play Store
3.Lenovo Tab M10 | Best Budget Android Tablets
Powered by the magnificent Qualcomm Snapdragon 429 2.0 GHz processor, this device possesses a 10.1 inches screen with a high 1280 x 800P resolution.  It is very lightweight weighing only 1.06 pounds which makes it effortlessly portable.
The device also possesses a great battery life of 9 hours to support you throughout the day. It comes with dual speakers at the front with Dolby Audio for the most phenomenal sound quality. You will also be able to create multiple profiles that can be unlocked effortlessly via face recognition.
The M10 is also a kid-friendly device that comes with parental control to make your life more worry-free. Your children would be able to enjoy a safe usage where you'll be in charge of what content they can access to. It also comes with an eye-protection technology to ensure reduced strain on your or the kids' eyes.
With such amazing features, all packed into one spectacular device, this affordable model has more to offer with its 2GB RAM and 32GB ROM. You can expand its memory capacity to a massive 256GB which can be more than ample for all your family members.
Highlighted Features
Qualcomm Snapdragon processor for ultra-smooth and lag-free operation
Kid-friendly mode with parental controls
Device can be unlocked by Face Recognition
Eye-protection technology for reduced stress on the eyes
4.Dragon Touch M7 | Best Cheapest Android Tablet
With an Android 9.0 Pie OS and powered by 64-bit Quad Core CPU 1.5GHz processor, this compact model comes with a 7 inch IPS display. Its 1024 x 600P resolution will thus be able to provide stunning visuals while the IPS display will ensure reduced stress on your eyes.
The device is equipped with front and rear cameras of 2MP each and its battery life of 3 hours can be sufficient for mixed usage even on the go.  Weighing only 0.65 pounds, it is unbelievably light to carry wherever you go. It has a wide 178 degrees of viewing angle.
So, whether you are relaxing on your couch or watching movies on the bed, it will ensure perfect HD visuals.  It comes with access to Google Play Store from where you can download all your favorite apps just by signing in.
It can be super-smooth and lag-free for your gaming sprees along with regular usage thanks to its powerful processor. A 2GB RAM will also ensure lag-free multitasking. Its 32GB storage can e enough but you can also expand it up to a stunning 128GB via SD card according to your convenience.
Highlighted Features
IPS screen for reduced stress on eyes
Incredibly lightweight and portable weighing only 0.65 pounds
Front and rear camera of 2MP
5.Vankyo MatrixPad Z4 | Best Low Priced Android Tablet
This 10.1 inches device is powered by the 64-bit Quad-core processor 1. 5GHz and comes with a 1280 x 800P resolution. Hence, you can enjoy the most vivid and clear visuals. The Eye Health feature is capable of automatically adjusting brightness levels to optimize your viewing comfort even at night/dim-lights.
It possesses an Android 9 Pie OS and a great battery life of up to 8 hours to allow you to power through your daily tasks easily. The device is also GMS certified to eliminate annoying ads while allowing you to access all your favorite apps from Google Play Store.
This affordable gadget can also give you a taste of hands-free operation via voice-control with its built-in Google Assistant. It is equipped with an 8MP rear and 2MP front camera and is incredibly light weighing only 1.08 pounds to boost your mobility.
The device's processor is also capable of saving energy while allowing ultra-smooth operation and gaming. It comes with a 2GB RAM and 32GB of storage memory to save all your files conveniently. You can expand it up to 128GB if you need to handle a larger bulk of files.
Highlighted Features
Eye Health feature automatically adjusts brightness levels in the dark
Can eliminate annoying ads
Hands-free operation via voice-control with built-in Google Assistant
Energy-saving processor
Cheap Android Tablets Buying Guide
Resolution And Display
Choose a model with the largest resolution within your budget as the higher the resolution, the better the quality of output you will receive. When it comes to the display, the size is more of a personal preference but larger screens tend to be more comfortable to view and use.
But make sure it doesn't affect your portability. You can also opt for special display features such as IPS displays or with other eye-protection technologies. But ensure it's worth it and within what you can afford. It would not be a wise move to break the bank for a not-so-vital specification.
Battery
You would want a device as active as you that can power through the day effortlessly beside you without letting you down. Hence, opt for a decent battery life which can last long-enough hours. Up to 7-8 hours on a single charge would be ample and you can also look out for models with energy-saving facilities.
RAM & Storage
This is another crucial aspect to pay heed to as the device's RAM capacity has a lot to do with how it operates and how smoothly you can multitask. Therefore, the larger the RAM, the more powerful the device in terms of multitasking without lagging.  A minimum of 2GB RAM should be targeted but opt for higher if possible.
The storage memory is also vital as it will be responsible for storing all your apps, app data, and files. So choose a model according to your requirements. The best cheap tablets for android mostly come with relatively small built-in memory. But you're in luck as they also come with massive expandable capacities.
With all such amazing reviews and examples of the most spectacular affordable android tablets, you should be relieved by now.
Clearly, with proper research and know-how, along with the aid of our buying guide, by now you'll hopefully be able to acquire the best cheap android tablet for you and your family.